I had the pleasure of checking out
Nikki London
, a plus size boutique located in Philadelphia, PA Memorial Day Weekend while on a scouting trip for Curves & Cocktails. With me were my two "Road Dawgs"--Denise Best of Blissful Elegance Events, and Ms. Gale Williams.
About the Boutique (from the website):
Nikki London provides fashion-forward styles in sizes 12 - 24 to satisfy the discerning tastes of plus-sized women. The boutique is located in Center City on 4th Street between Lombard and South. The airy and comfortable space invites visitors to browse, enjoying the feel of lovely fabrics and the sparkle of semi-precious jewelry.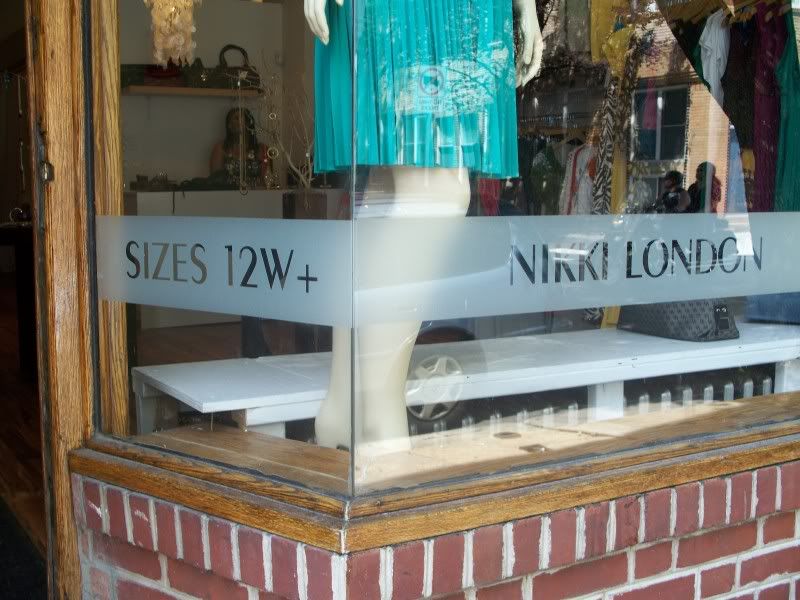 The Storefront Window of Nikki London
The first thing that struck me about the boutique was that in looking in the storefront window, you wouldn't automatically know that it was a plus size boutique. The clothing featured in the window was modern and trendy. Once I stepped inside, I knew I had found a great shopping spot for plus size women! The shop's assistant, Marissa, was a curvy girl herself, and was well-informed not only about plus fashion, but also believed in owner Nikki Watt's vision to bring trendy clothing to the plus size women of Philadelphia.


The lovely Marissa, employee of the Nikki London Boutique posing for the camera

There is plenty of space to move around the shop, and not only can ladies shop plus size clothing, but the boutique also has an awesome collections of jewelry and handbags to choose from as well.
Nikki London's owner, Ms. Nikki Watts was a wonderfully gracious host, and she took the time to assist my friends and I as we shopped for outfits for Full Figured Fashion Week and other events this summer.

Ms. Nikki Watts assisting Ms. Best in her shopping exploits.
(Note: She purchased a HOT red dress!)
Ms. Watts was sweet enough to take the time for an interview as well as we shopped!

Belle-Noir: Why did you decide to take over the boutique last year, and what do you hope women experience when they shop at Nikki London?

Nikki Watts: The plan was to open a location in MD, where I live, but the opportunity came about and I seized it. This store is dedicated to women size 12 and above. We all know that shopping choices for plus-size women are limited. Nikki London has a great selection of contemporary plus-size clothing to flatter various body types. We as women often forget that style has nothing to do with size. It is an expression of your individuality and who you are. We show women how to find the perfect fit for their body type and in the process, transform the way they look. My ultimate goal is that customers walk out feeling more self-confident than they did when they walked in. Nothing feels better than looking and feeling good! That's what I want people to get out of the Nikki London experience.


Belle-Noir: Who are some of the designers that Nikki London features?

Nikki Watts: Kiyonna, Donna Ricco, Trentacosta, Svoboda, Eliza J, Igigi just to name a few.


Belle-Noir: Where would you like to see Nikki London in the next five years?
Nikki Watts: I pray that Nikki London is bigger and better in five years. My focus will be to continually provide a carefully edited mix of clothing, creating fantastic wardrobes for our customers to the envy of everyone regardless of size.
Nikki London
520 S. 4th Street
Philadelphia, PA 19147
Phone: 215.922.3536
http://www.nikkilondon.com/