Happy Monday folks! Are you on
Twitter
? If you are not, you are truly missing out! Not only have I met some wonderfully fabulous ladies through Twitter, but I have also come across some truly awesome finds as far as fashion and jewelry for plus size ladies.
Case in point: one day last week, a young lady by the name of Gina Brotherton, posted a link to her new jewelry venture,
Glamma Girl Xpressions Jewelry
. In checking out her website, I immediately fell in love with not only her jewelry, but the story behind how she came to create it.
"Initially, the endeavor was not meant to be a business venture by any stretch of the imagination. She just grew weary of spending ALOT of money for accessories that "everyone else" was wearing, or that didn't properly (or comfortably) fit her full-figured frame. It was at that time that she began making her own pieces! Much to her surprise, she started getting lots of compliments on her creations, and inquiries as to where they could be purchased. After some convincing from a few friends, she started crafting some goods for public consumption!"--from the GGX Jewelry website
After a direct message to Gina about wanting to feature her, she was most gracious to share some of her favorite pieces from her growing collection of jewelry: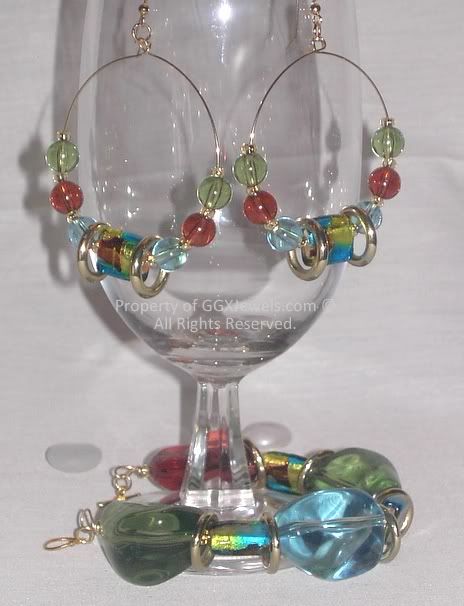 The Juno Set
"Bright & Bold. Big hoop earrings with multi-colored beads and gold hoop detailing. Focal point is a glass foiled bead. The bracelet is chunky but funky! Large acrylic beads, also coupled with glass foiled beads and gold hoop detailing. $30 for this set that also comes with a beautiful matching wire-wrapped ring (not pictured)."


Glamma'Rous Curves +Size collection: Caged Beauty
"It's time for fuller-figured women to break-free of the chains and Think. BIG! We are beautiful!! This is a bigger version of the wire-wrapped cuff bracelet. Bronze wire, Tiger's Eye chips, Cracked glass accents, and acrylic faceted wire-wrapped focal beads."
One of my favorite sets on her site is The Jasper Set, which includes these gorgeous copper wire wrapped earrings with a matching ring: